You don't need to travel so far to find a good business opportunity, and you don't need to run a strictly online business, either. There are many, profitable business ideas that you can do within your own community and for little investment.
1. Crafts and Creative Products. Many successful businesses got their start as hobbies. If you keep getting positive feedback about the items you create, and there seems to be a strong demand, then it you may be able to turn it into a viable business. You just need to be clear about who your market is and how you are going to reach them.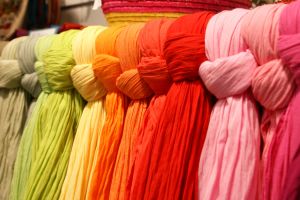 2. Home and Business Decor. Enjoy playing around with different textures, colors, furnishings, and lighting. Do you find yourself walking into rooms and other spaces and mentally designing a new and improved layout? Then you may want to consider going into home and business decor. Unlike its more technical cousin, interior design, there is no certification required for this kind of job. You could work with local homeowners or head over the restaurants, stores, and offices in your community and see if they could benefit from your services. You could help with window displays and holiday themes or create a more efficient set up.
3. Professional Organizer. If organizing is your thing, then you can put your talents into a business helping other companies, organizations, and individuals make the most of their time and resources. For more information on this occupation and other helpful resources, see The National Association of Professional Organizers.
4. Image Consultant/ Fashion Coach. Do you enjoy helping others shop for clothes? Are you good at spotting the strengths that others possess and knowing how to highlight them? Image consultants and fashion coaches help their customers bring out the best of themselves to both build confidence and present an eye-catching personal brand.
5. Reconditioning Furniture, Antique Refurbishment, Re-purposing. This business opportunity is for those who find themselves heading to the local yard sales, thrift shops, flea markets, and even the dump in search of items that can be brought back to life or given an entirely new use. You could sell your creations online or via craft fairs. You could even turn your garage or some other room in your house into a mini show room.
6. Selling unwanted items. You could make a business helping people get rid of unwanted belongings. As the saying goes, "one man's meat is another man's poison." Save people the effort of selling those old or unused items by hosting a yard sale on your property or selling it on eBay, Craigslist, etc. Many would gladly do it especially if you gave them a cut of the sale price.
7. Childcare. If you are good with kids then you could start a babysitting or daycare business in your home. Many states will not require a license if you plan on only having a small number of kids. Just check with your local State Department of Children and Family Services. Even if you do need to get a license, it is usually pretty cheap, and the process for getting certified relatively easy.
8. Computer Repair. Computer repair is a great business, because many people have computers, but not so many know how to fix them when they break. You could visit customers in their homes or where possible make repairs remotely.
9. Catering and unique food products. If you like to cook and bake, or you make something unique as a hobby, then you could sell the food items you make. There are many possibilities: you could be a caterer, you could make baked goods or other specialty items and sell them in local shops and fairs.
10. Home Staging and Reconditioning. If your community has been hit by the waves of foreclosures sweeping through the country, you could start a business that will make these properties more sellable. There are several possible angles to take, such as clean up and garbage removal, interior re-conditioning and decorating, and sprucing up the surrounding, external property.
11. Event Planning. If you enjoy organizing events and meeting new people, then you might want to consider event planning. You could specialize in an assortment of different events, such as parties, weddings, business events, and group outings.
12. Cleaning Services and garbage removal. If you don't mind getting your hands dirty, then you could start a cleaning business. Like event planning above, you could specialize in cleaning one kind if area or even items and materials. Some popular cleaning services include cleaning: offices, cars, yards, homes, and dorm rooms.
13. Errands. If you have a gas efficient vehicle, such as a small car, a motorcycle, or even a good bike, you could earn money doing errands such as shopping, deliveries, and pick ups for those in the community who don't have the time or the means to travel.
Pet Care Services. If you like being around animals, then you may want to start a pet care service. In this area you have several possibilities:
14. Pet sitting. Go to pet owners' homes or in some cases take the pets home with you and tend to the needs of their pets such as feeding and watering them. There's actually a whole site dedicated to this profession. Check out Pet Sitters International.
15. Pet taxi service. If you have a car or truck, you could make a business driving pets around to the vet or to a grooming appointment, or some other destination. You'll need to buy a pet crate or know how to secure the animal in the vehicle with safety straps.
16. Pet photography. If you're a talented photographer and know how to work with pets, then this may be an option to consider. All you need is a few simple props and a good camera. You could go to people's homes or set your self up at a local business.
17. Other pet business ideas…. Pet grooming, dog walking services, creating healthy, fresh pet food or snacks