When it comes to the latest and greatest in tech gadgets, there's plenty to ogle at these days. But as a small business owner operating on a small budget, deciding which of these devices to invest in can be dizzying. With so many "must-have," feature-rich products out there, where do you even begin?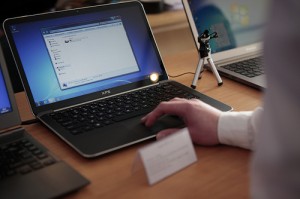 Here is where the following five products step in. What I like about these devices is their versatility. To make the list, the device can either be a stand in for several other devices, or it allows you to multitask from many places and situations. None of the following products will break the bank, either.
Tablet Computer
A tablet computer is fast becoming a must-have tech device for a diverse population of small businesses. The touch screen, small size, and high-definition, media-oriented interface make these devices suitable for a whole range of tasks including: point-of-sale transactions, video conferencing, presentations, web surfing, and data production and management. Both the iPad 2 and the Kindle Fire offer a lot of value for a reasonable price. The iPad 2 is already "old news" for staunch Apple customers and that means you can get one for cheaper, typically $350 to $400. The Kindle Fire, may be lacking some of the features of the iPad, such as a webcam and microphone (though that may change soon), but at $199 a pop, it's the cheapest option out there if you are in the market for a tablet computer.
Webcams and Conference Cams
Though many mobile devices these days come with a back-facing camera/webcam, if you plan on meeting with clients from a remote location, coordinating with multiple co-workers, conducting team presentations or meetings, producing training videos or webinars, then a good webcam and/or conference cam is essential. I personally like Logitech's line of webcams (they have several options for under $100) as well as their BCC950 ConferenceCam for professional video-conferencing without the "professional" cost (It's about $250).
Noise Canceling Headset
Want to meet with a client via webcam from your favorite noisy coffee shop, or take an important call while walking down a busy street and be certain that the person on the other end will hear every word clearly without any background noise? Any small business owners who need to make virtual meetings from a noisy location should invest in a noise canceling headset. The Boom is without a doubt one of the best devices out there. There are several different models to choose from with prices ranging from $150 to $250.
Ultrabook
An ultrabook is a cross between a souped-up netbook (remember those?) and a high-end laptop computer. What makes these devices so attractive is that they can carry a lot of computing power comparable to some high-range desktops, but are extremely efficient, compact, and travel-friendly without compromising on comfort of use. One of the most slick offerings is the Toshiba Portege Z830 which sports some really cool features, such as a spill-resistant backlit keyboard, a fingerprint reader, quick start up, 3 USB ports, and a 0.63-inch profile that weighs less than 2.5 pounds. The cheaper models cost $899. For the same price, you can also check out the comparable HP Folio 13-1020us.
Smartphone
Remember when cell phones were only used to make phone calls? These days, most smartphones are so versatile and powerful, that you could forget that they even make phone calls. When the iPhone hit the market in 2007, it changed the game for the mobile phone industry opening the door to a whole slew of competing models and price-points. These days, most small business owners cannot afford to be without smartphone. If you do not purchase any the category of products above, here is where you should not skimp. Your smartphone will pay for itself by as a data management tool, web browser, point of sale device, GPS system, etc. It's like having a mini tablet computer in your pocket. As I mentioned above, there are many, many models to choose from, so you'll have to do a little research to see which one works the best for you and your company.