As smart phones and other mobile devices become common place and people increasingly turn to the Internet to help them plan out their daily business and leisure activities, the growing importance and impact of local search cannot be ignored. If you run a local brick and mortar business, you should do what you can to ensure that your company has a clear and accurate presence within the local search engines, directories, and social networks.
Below are the five most important local search sites to consider. All of them offer free submission, and some of them cover several simultaneous databases as well:
Google. Google offers a few neat options for locally based small businesses: The first is Google Places (formerly known as Google Local Business Center), The information you list in Google Places allows online searchers to find your local business listing within the search engine results and it also gives your business a presence on Google Maps. To complete your submission you must verify the information with a postcard or telephone call.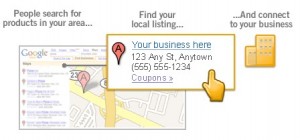 Once at Google, you should also check out Google Lattitude– Google's latest foray into local deals and couponing. The new service combines coupon-type offers and discounts with consumer check-ins and works much in the same way as both Foursquare and Yelp combined.
Yahoo Local. On the heels of Google, there's Yahoo local. This service is a business directory organized by category and geographic location. It provides users with the names, phone numbers, addresses, and other pertinent information regarding the local businesses within a community, such as hours of operation and accepted methods of payment.
YellowPages.com. Riding the tide of their ubiquitous, paper-based phone directories, the Yellow Pages online continues to draw a crowd of users seeking basic information on local retailers and service providers. There are several sign-up options available to business owners, the most basic of which is free.
Ask City. This service provided by Ask.com, culls user reviews and editorials from several popular search and business review sites, including CitySearch, Yelp.com and Insiderpages. The 5 star Ask City ratings system is taken from the Best of Citysearch listings, which are in turn based on user reviews. You can see more information about these ratings at CitySearch.com. To add your business to Ask City go here; here to edit your listing.
Windows Live Local Microsoft's entry in the online local search arena combines Bing Maps, similar to Google Maps, with bird's-eye imagery, traffic conditions, and driving directions, with the Yellow Pages and other local search tools. You can also view and get directions to local businesses.