Have you've been noticing anything different in the search results lately? If you're in the U.S. and you've been doing any online searches for products, you may have seen some Amazon-like product listings popping up within and along side the search results. Below is an example of what they look like: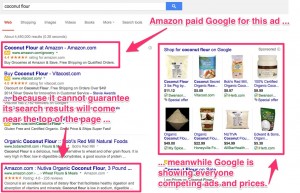 This is Google's new paid shopping ads program, which poses a direct challenge to other online ecommerce platforms, particularly Amazon.com. The program as a whole has three main components: the Google Merchant Center dashboard, the Product Listing Ads campaign section of Google Adwords, and finally the Google Shopping data feed, which is basically a file provided by an advertiser made up of a list of products and their unique attributes, such as "color" and "condition." Google's Product Listing Ads are cost per click (CPC) ads which online merchants can purchase through their AdWords accounts. These ads appear on Google Search pages to the left, and top of the search results page. Product Listing Ads are most distinguishable in that they feature a product image, and they cater to products and product categories instead of keywords.
Though Google has yet to roll out it Product Listing program on a full scale, there are a couple of really compelling reasons why you should be paying attention to it whether you run an ecommerce site or sell numerous physical products from a brick and mortar location:
You'll get more visibility in Google searches than if your product was listed on Amazon. Unless shoppers are searching Amazon directly, they're pretty likely going to do a search on Google first. And, even though Amazon has highly ranked searches in Google, Google has been pushing down those natural search results in favor of its own product listing ads. As further proof that Google Product Listings are the way to go, other big ecommerce sites, such as eBay, are quickly buying up advertising space.
You'll tap into Google's repository of search data. Another less talked about, yet potentially powerful part of using Google's Product Listing program, is that every time a user conducts an online search it gives Google data, and if that user hasn't turned off personalized search, then Google can retarget the user later on with relevant ads and promotions. For example, say someone does a search for "almond butter." Even if no purchase was made or it was made through a non-Google vendor, when that person walks by a health foods shop two weeks later, he or she could receive a text message like, "Big sale on Almond Butter up the road!"
In short, Google Product Listing Ads, is definitely something to consider if your business involves the sale of products- whether online or off. For more information on Google's Paid Shopping Ads program and how you can use it successfully in your business, take a look at this great ebook over at CPC Strategy.